← Previous Julienne Clear L8+4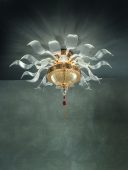 Next Julienne Clear PL8 →
← →
You may also press keyboard arrows
or click at page corners for navigation
Julienne Clear L8 shade
Colors: Black, Special Order, Brown/Walnut, Red/Pink
Materials: Special Order Materials
Finishes: Special Order Finish
Item Description
Gorgeous 8 lights chandelier is part of Julienne Collection which features fantastic and exquisite blown-glass pieces, in this case clear glass with pendants, octagonal and bobeches in Swarovski crystals.
The beautiful red lampshade is crumpled by hand.
Perfect as dramatic chandelier, it is sure to be the center of attention on any classic home, making any occasion feel special.
Finishes:
Shiny Chrome
Glass:
Transparent/Bochece amethyst
Inventory is updated on 12/01/2023
The inventory quantities are subject to change, please call for more updated information