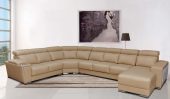 ← Previous 8312 Sectional with Sliding Seats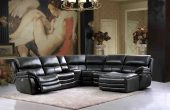 Next 2711 Sectional with 3 Electric Recliners →
← →
You may also press keyboard arrows
or click at page corners for navigation
dimensions
312 Sectional w/Bed and 1 Electric Recliner
20% OFF!
Colors: Black, Special Order Colors, Grey/Silver
Materials: Top-grain Leather Front/Eco Leather Back, Special Order Materials
Item Description
Elegant contemporary leather sectional with Electric Recliner chair, Sofa Bed and Built In Audio System.
Stock leather color: #2065,
Material: Top-grain Leather/Eco Leather Back, Orthopedic Mattress, size W56" x D74" x H5"
Stock Color: Dark Grey.
Audio System Description:
* MP3 Playback
* AUX input function
* Bluetooth function
* USB playback, and Phone charging function
* iPod/iPhone/iPad playback and charging function
* 2.1 track power output(2 x 6 W + 12W RMS)
Inventory is updated on 03/05/2021
The inventory quantities are subject to change, please call for more updated information