← Previous Kali Dining Additional Items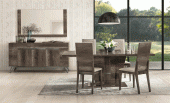 Next Medea Day Additional Items →
← →
You may also press keyboard arrows
or click at page corners for navigation
TV Stand with 4 Doors
Shown with optional TV Stand w/4 Doors
Coffee Table with storage
With Straight Handles - Available for SPECIAL ORDER!!!
Prestige Entertainment
Colors: Brown/Walnut, Grey/Silver
Materials: Wood veneer, Glass, Stainless Steel
Finishes: High Gloss Lacquer
Item Description
MADE IN INTALY
*Geometric shaped handle designed by our
architects to satisfy the most demanding taste.
*LCD cabinet with essential and plane lines designed to let
you enjoy with style your free time.
* Coffee Table hides inside a spacious
storage for bottles, perfectly integrated with the base.
Inventory is updated on 09/22/2023
The inventory quantities are subject to change, please call for more updated information
| Description | Qty Ordered | Arrival Date to NY port |
| --- | --- | --- |
| @TGBU6761131Prestige TV Stand w/3 Door, W64 PRDUMPT02 | 2.00 | 10/22/23 |
| @TGBU6761131Prestige TV Stand w/4 Doors/prdumpt01/ | 3.00 | 10/22/23 |