← Previous Carrara Bedroom Grey w/Light Coming soon !!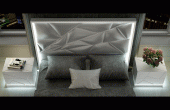 Next Kiu Bedroom Additional Items →
← →
You may also press keyboard arrows
or click at page corners for navigation
Treviso Bedroom Additional Items
Colors: White, Special Order Colors, Grey/Silver
Materials: Wood-based panel, Special Order Materials
Finishes: Mat, Shiny, Special Order Finish
Item Description
The new finishing Treviso reveals the unique beauty and versatility of the eco-stone surface, a resistant and durable technical material. Warm color, Mediterranean and fine wrinkled texture combined with high gloss white color and chromed handles.
*Soft Closing Drawers
*Color: White - Grey Stone
Inventory is updated on 11/26/2021
The inventory quantities are subject to change, please call for more updated information