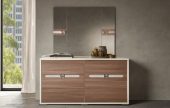 ← Previous Evolution mirror ONLY!
Next C-152 White Dresser & E-100 Mirror →
← →
You may also press keyboard arrows
or click at page corners for navigation
Platinum Chest IVORY
Colors: Light Beige
Materials: Wood veneer, MDF
Finishes: Shiny
Item Description
MADE IN ITALY
PLATINUM bedroom furniture set in Beige. Modern lines combined with Art Deco' details. A beveled mirror and wave shaped handles give a typical Made in Italy look to this bedroom. Wood diamond shaped headboard with LED light insert. Optional storage kit with lift mechanism.
Swatches
Camelgroup Swatches
Inventory is updated on 09/30/2022
The inventory quantities are subject to change, please call for more updated information
| Line Desc for Sales | Qty Ordered | Arrival Date to NY port |
| --- | --- | --- |
| @HLBU1328750Platinum Chest Ivory /136SET.02BS/ | 5.00 | 9/15/22 |