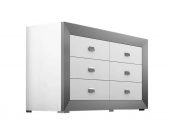 ← Previous Margo Dresser
Next Dama Bianca Single Dresser →
← →
You may also press keyboard arrows
or click at page corners for navigation
Altea Dresser/Mirror
70% OFF!
Colors: Brown/Walnut
Materials: Wood veneer, MDF
Finishes: High Gloss Lacquer
Item Description
Luxurious Dresser & Chest "Altea" in high gloss finish, with 12 mm top and bottom panels. Curved drawer fronts 35 mm thick. ' Cross chain' in brown contrasting finish with fancy hard leather "Cuoio" handles with visible stitching. Drawer insides in 'fabric looking' material. Soft closing mechanism.
Swatches
Camelgroup Swatches
Inventory is updated on 03/24/2023
The inventory quantities are subject to change, please call for more updated information