← Previous Carrara Bedroom Grey w/Light Coming soon !!
Next London Pouff →
← →
You may also press keyboard arrows
or click at page corners for navigation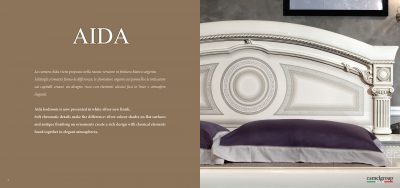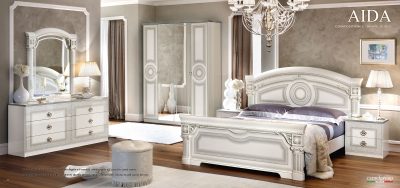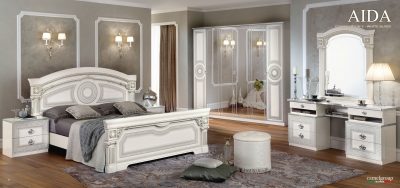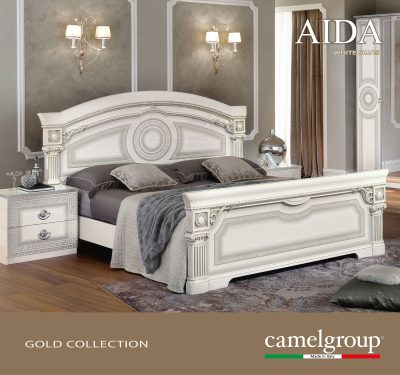 Aida White w/Silver Bed
Aida Bed White w/Silver
Colors: White, Grey/Silver
Materials: Wood veneer, MDF
Finishes: High Gloss Lacquer
Item Description
This Panel Bedroom Set offers a perfect way of brining a classic European design to your traditionally decorated bedroom. Straight panels are in chipboard, then veneered (veneer being a thin layer of solid wood); then the veneers are lacquered using a 6 steps/layers of UV high gloss polyester lacquer. Manufactured according to European and international standards.
Camelgroup Italy
Swatches
Camelgroup Swatches
Inventory is updated on 05/12/2021
The inventory quantities are subject to change, please call for more updated information
Estimated Arrival Dates
| Line Desc for Sales | Qty Ordered | Arrival Date |
| --- | --- | --- |
| Aida Bed KS White / Silver / Need Wooden Slat Frame KS/ AL099LET.05BI/ | 5.00 | 5/13/21 |
| Aida Bed KS White / Silver / Need Wooden Slat Frame KS/ AL099LET.05BI/ | 5.00 | 5/28/21 |
| Wooden Frame QS Camel Bent /AL000RET.152O/ with legs AL000ret.109p (153x203x3) | 20.00 | 5/12/21 |
| Wooden Frame QS Camel Bent /AL000RET.152O/ with legs AL000ret.109p (153x203x3) | 40.00 | 5/28/21 |
| Wooden Frame KS Camel Bent /AL000RET.193O/ t.109p/ (193x203x3) with legs AL000ret.109p | 40.00 | 5/28/21 |